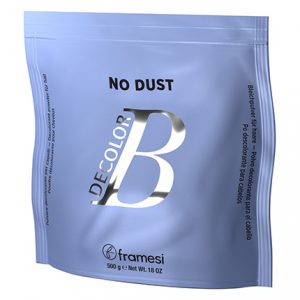 Decolor B No Dust Lightener (500g)
Framesi
Regular price $19.49 Sale
A great performance and top delicacy decoloration for more than 7 shades, DeColor B No Dust is a bleaching powder with high quality oxidizing agents ensuring a strong decoloring power and silicon by-products protecting hair all through the decoloring process. Conditioning thickener mixes to a very thick consistency. Stays moist throughout application and processing. Violet agents assist in refining unwanted warmth while lifting.
Utmost protection for the hair
Lightening power of 7 levels or more
Stays moist without swelling
Pleasantly scented
Also suitable for over-treated hair
Off-the-scalp bleach. Do not apply directly to scalp. In a small plastic bowl, mix powder with appropriate developer to achieve the level of lightening desired. Mix well with a flat brush to achieve a dense, homogeneous cream. Take the utmost care to avoid contact of the bleach with any metal.Processing time: from 20 to 60 minutes, according to type of hair and desired result.