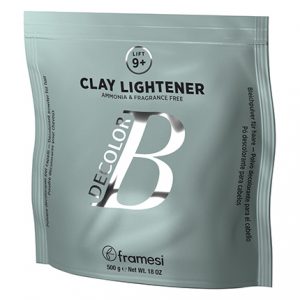 Decolor B Clay Lightener (500g)
Framesi
Regular price $28.95 Sale
Ammonia Free, fragrance free, can be used on scalp with 20 volume or lower.
Will not dry out or flake. Creamy consistency, clay texture stays in place, perfect for free hand lightening. No dust, and will achieve 9+ levels of lift.
That result is now possible with DECOLOR B CLAY LIGHTENER, the ammonia and perfume free decolorizer offering better hair texture quality, even on damaged hair, thanks to a pool of protective substances, including Guar Gum and sugar by-products.
In a plastic bowl, mix DECOLOR B CLAY LIGHTENER with the most suitable developer, based on the level of lightening desired. Mix well with the brush to get a thick, uniform cream.
Absolutely avoid the bleach coming into contact with any metal.
Processing time: from 20 to 40 minutes, based on hair type and desired level of lightening.
Do not use any heat. After application time, rinse well with warm water.